Here is the latest digest of ministry happenings and prayer requests. You may follow the embedded links for more details.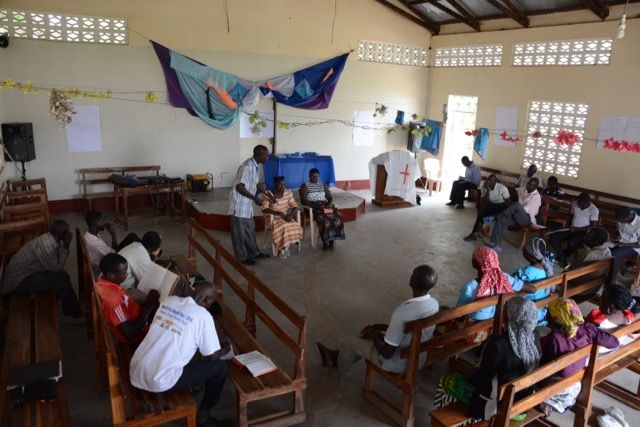 Church Planting on the Far Side of the Gulf
Pastors and Bible Institute students from Nyakaliro and Lusolelo are making great efforts to preach the gospel in Bukokwa and Mbugani. By God's grace people are responding in faith. I made my first visit to these two locations on May 20 and 21 and wrote about the experience here.
The group meeting for Sunday worship in Bukokwa already fills their tent. Meanwhile, a core group is also forming in Mbugani. Members of the church in Lusolelo are traveling a relatively great distance to continue evangelism and encourage those who respond.
Church Fellowship and Construction
As the number of churches grows, so does the cumulative ability to expand the reach of the gospel. Where no single church may have the resources to send and support evangelists, they may collectively. Cooperation is an exciting prospect. It is also potentially complicated. How do 6+ churches agree where to plant a new church? And while American churches are partnering with them to that end, each of the Tanzanian churches has a vested interest in how shared resources are used. At the risk of being crass, there are many hands in the pot! So who decides how big the church building should be? Who decides whether a given piece of land is worth the asking price?
These are some of the questions confronting the churches as they are formalizing the fellowship between them. For us, organizing the fellowship is one way we missionaries are shifting more of the responsibility to answer those towards the churches—those effected most by such decisions. I have written more about these developments here.
One of the recent test cases of collective decision making is the construction in Usagara. There the road to building a permanent structure for meeting has felt long and hard. Construction was progressing on pace with the support of all the churches, but a week ago the government ordered that we wait. It is a relief to us missionaries and a mark of maturity for the Tanzanian churches that they are initiating the steps necessary to reconcile with the government.
Bible Institute
The first group of Bible Institute students completed the first four foundational classes on June 2. We teachers observed the achievement by washing the students' feet. These students will have the opportunity to move into 2nd-level courses in August, beginning with Bible interpretation. Meanwhile, other students have just begun working on their homework for Spiritual Growth and will enter the class on the church.
Prayer Requests
The first meeting of the new church fellowship is Thursday, June 22. Please pray that this and subsequent meetings would continue to move the churches towards greater maturity and unity in Christ.
Our coworker, Beth Roark has made an unplanned trip to the USA for necessary medical treatment. We thank God that she is currently doing well and seeing excellent doctors. Please join us in praying for wisdom and effective treatment. Also pray for those filling Beth's shoes while she is away.
We as a fellowship of churches and a missionary family are all working through various demands from the Tanzanian government. We personally would like to move on and put these matters behind us. But above all I would like to ask that we pray for God to be honored in all of our interactions with government officials. Despite my good intentions these interactions too quickly bring me to the end of my patience.
The gospel of Jesus Christ is being proclaimed in Tanzania! Pray that more who hear the good news in Malimbe, Bukokwa, and Mbugani, would be saved from their sins and gathered into God-honoring churches.
In a recent prayer update I provided a few reasons that make revisions to the Tanzanian church constitutions is a big deal. Here, I'd like to emphasize the "big." To clarify, the churches didn't just update the language of their constitutions. They also chose to draft a governing document for their church fellowship at the same time. Up until now the churches have informally encouraged and helped one another. This could have continued indefinitely except for government policy that will require them to organize and register as a group of churches. For now we missionaries are satisfying those requirements on the churches' behalf. Organizing the churches into any form of fellowship is a necessary step towards their maturity—hence my "big deal."
At about 7:00 pm on May 4, the second of the two-day church summit for revising and writing these documents, there was a spontaneous celebration and a sigh of relief. We had worked through both documents and survived the intense discussion!
The Form of Fellowship
The churches have decided to work together for the following purposes:
guard the doctrine and teaching among the churches
start new churches and motivate evangelism
help solve biblical conflicts between churches
pray for one another
care for God's property (i.e., land and buildings)[1]
help one another in times of disaster and danger
The Next Step
Pending the agreement of each congregation, the first ever meeting of the Fellowship of Grace Baptist Churches of Tanzania[2] will be 22 June. Please join us in praying for the success of these meetings.

My last trip to the west side of the Gulf became my first opportunity to see the progress of church planting in Bukokwa and Mbugani.
Open Air Meeting in Mbugani
Mbugani is a Swahili word roughly translated "in the remote place." But that name was given to this place before it became a large village. The members of the church in Lusolelo chose Mbugani for its size and need for a gospel-preaching church.
The most notable point about the location is perhaps the ambitious faith of the evangelists, for Mbugani is at least ten times the size of the little village they are coming from. Beyond that is the great distance they must travel to reach their target. Mbugani is more than an hour's drive from the church in Lusolelo. The pastor bikes the distance several times a week while others are traveling by foot—a hike that must take at least 3 hours. And even so, there is no shortage of people willing to cover the distance, camp away from home and make evangelistic visits.
The Saturday of my visit (May 20), we held the first open air evangelistic service there. Turnout was actually poor due to multiple funerals in the family of our host, but I hear that response to the gospel is enthusiastically positive.
Worship Service in Bukokwa
Although I have participated in evangelism in Bukokwa on multiple occasions, that weekend was my first opportunity to meet with those who have responded to the gospel there. I preached from Luke 18 and excellent village hospitality before making the six-hour-drive back home (that's unusually long).
The group of believers now meeting in Bukokwa is eager to call a minister and identify themselves as a church. They are only waiting for the church fellowship to formally organize before moving forward.
The quick development in Bukokwa has something to do with the involvement of Bible Institute students from Nyakaliro. It was the students who did the work of evangelism in Bukokwa–and they did well! Pastor Jonas says that the students' enthusiasm for their ongoing studies has spilled over to the group from Bukokwa. And as a result, there are now more students enrolled in the Institute from Bukokwa than Nyakaliro. This multiplication of disciples through these churches is the reason for the massive uptick in student numbers this year. Praise God!
Our monthly ministry and prayer update this time has become a quarterly update. It is time to get you caught up on all the good news! Permit me to capture the developments in lists.
Bible Institute
I've just updated the blog with an overview of the current Bible Institute curriculum. See that post for an explanation of what classes we are teaching and the results we are seeing. The post includes a new video recorded to tell you about our class on spiritual growth.
I am currently involved in the Bible Institute in these ways:
My teammate, Dan Eads, and I write and teach the new courses collaboratively. While Dan is doing nearly all of the teaching, I have overseen the course writing and revision.
I took my first shift teaching an entire course at the end of March. With over 50 students enrolled, it happened to be our largest class to date. God kindly used the input of the pastors, our co-teachers, to fill the gaps in my Swahili and scrape me off the ground at the end of each day.
We are now preparing to offer a course on Christian family at the end of May.
Constitution Revisions
The Tanzanian churches are now in the process of revising their constitutions and creating a governing document for their fellowship of churches. The next fellowship-wide meeting, May 2–3, will bring together each church's revisions and hopefully produce documents ready for approval.
Here are some reasons why this is a big deal:
Though the churches have constitutions already, they have generally disregarded or misused their constitutions for various reasons.
There is enough collective maturity between the churches to recognize the necessity and proper role of such documents.
As the number of churches has grown, so has the complexity of their relationships to one another and to us missionaries. Explicit agreement can go a long way in preventing misunderstanding and offense.
Church Planting
Church planting efforts are ongoing in Malimbe, Bukokwa, and Mbugani. Meanwhile in Usagara, we have introduced mid-week meetings to start preparing a new group for baptism and church membership.
Here are some ways we can be praying for each of the young churches/church plants:
In Malimbe pray that God may save, grow, and enable people to remain geographically close.
For the 30+ currently attending the worship services in Bukokwa, please pray that God may develop a strong unity in the faith.
For the evangelistic efforts in Mbugani, please pray that God may continue working in hearts to save and develop leadership for a future church.
In Usagara, let's pray that God may continue to foster a love for hearing, obeying, and sharing His word.
Prayer Update
Please pray that the Tanzanian churches would be given the wisdom and patience to revise their church and fellowship constitutions so that unity and faithfulness between them is reinforced.
Join us in praying that the Bible Institute classes we are creating will prepare the churches to serve God and one another especially in their personal spiritual growth, ministry to each other in their churches and in their homes.
Please pray for the young church in Usagara which is growing numerically and being challenged with financial and spiritual difficulties at the same time. May God protect them, increase their faith, and strengthen their resolve to be faithful.
With regard to the church planting efforts in Bukokwa, Malimbe, and Mbugani, please pray that the gospel will be understood and believed upon. Pray that groups would gather for the purpose of worshipping and serving the God of our gospel.
Please join us in praying that our personal and family worship would be refreshing and effective in making us more like our Savior.
The biggest news-worthy updates in our work here in 2017 revolve around the Bible Institute. If you have followed the bigger narrative of the gospel's advance in this part of Tanzania, you may already know that the Bible Institute has been refitted to be the primary vehicle for helping existing churches grow in spiritual maturity and viability. While there is much more work left to be done, we are glad to report that God has already done great things out of these efforts.
Testimonies We Have Heard
The students and their pastors share with us how God's word is being proclaimed and heard, and how people are being changed. Here are some of the things we are being told:
"I have never seen a church with this kind of love and participation."
"Your church actually teaches the word of God!?"
"Thank you for teaching my wife," says one student. "It used to be that I would drag her to church. Now she is dragging me!" The same wife later described how she sometimes has trouble making quick trips to the market. She has found herself in gospel conversations for multiple hours there.
"I thought I knew the gospel. Now I realize that I didn't and that there are so many churches here full of people that don't know the gospel."
"Every day [in class] I discovered how I don't have anything before God whereas I had thought I was something before. Every day I was emptied and filled up again [with truth]."
"I visited an older man to share the gospel. He responded with surprise, 'I've been worshipping at this church since you were born and I've seen your behavior when you were younger. And now you want to preach to me the word of God.' I went home and prayed and another day returned to share the gospel. He listened to the gospel and was convicted of his own sin, asking how he could have never heard these things all the years he has been attending another church. The next Sunday he started coming to worship God with us."
Observing how the students have faithfully shared the gospel, one pastor said, "We've become used to seeing new people come to church each week."
Since the beginning of 2016 I have made monthly visits to Nyakaliro and Lusolelo. The rough roads and the Gulf that separate those villages from our home would otherwise make it difficult to keep in touch. A weekend trip gives me some dedicated time to encourage the pastors (Jonas and Laurent) and participate in their church planting or teaching efforts.
Typically, I leave home on Saturday morning, arrive in Nyakaliro late afternoon, and then participate in evangelistic visitation or spend the evening with Jonas. I stay overnight there. Sunday morning I preach in one of the two churches and spend the afternoon with Laurent.
Now that both of these congregations are working to start new churches, the weekend agenda can fill up quickly. My monthly visit in January expanded to 3 days to include the monthly pastors' meeting. [Read more →]
For this ministry update we reflected on what has been accomplished in life and ministry in 2016 and recorded it in a short video. Hit the play button here on the blog or follow the link below to see it online.
[vimeo 199005673 w=400]
Prayer Update
Please pray that the young church in Usagara will develop habits of taking in God's word and praying together. William and I are planning in-home visits to encourage informal group reading and prayer gatherings.
New believers are being prepared for baptism and membership in the churches of Shadi, Lusolelo, and Usagara. Let's rejoice together! Let's also pray that these young believers may understand the foundations of their faith (think of Rom 6:4).
Organized evangelism is under way in Bukokwa and Mbugani under the leadership of the churches in Nyakaliro and Lusolelo, respectively. Please pray that more would hear the gospel and respond in faith and repentance. Also join us in praying that God may raise up true disciples (John 8:31) who will eventually become fit church leadership (2 Tim 2:2).
Our kids continue to grow and experience more of life in rural Africa. As Ian (and eventually Kyla) try to make sense of where they are in the world (asking, for example, why are they different than nearly every other kid they see in Tanzania?), please pray that they would ultimately turn to God and listen to Him.
The news since the last update that floats to the top is, perhaps, a subtle shift of my attention from Usagara to Bible Institute preparations. I continue to make regular trips to Usagara to work with William. On Sundays there, I have completed a sermon series through the Gospel of Mark. The climax was a survey of the things that Jesus gave up in service to us (Mark 14 and 15). No matter how difficult you consider your own circumstances, our Lord certainly understands suffering.
Joint Church Worship Service
On Sunday December 4 the churches of Usagara, Shadi, and Sweya met together for a marathon worship service. This provided like-minded believers—who would not otherwise know each other—an opportunity to meet and encourage one another. We deliberately planned one specific kind of encouragement in that we invited Bible Institute students from the other 3 churches to give testimony to what God is doing through them. In the joint service students from Lusolelo preached the gospel; students from Sengerema taught the children; and others led the congregation in song. Dan Eads, Pastor Laurent, and myself each preached; Pastors Hamisi and Jonas gave testimony via letter. Yeah, it was a long morning—about four hours.
To add to the excitement, Pastor and Mrs. Samson's baby girl was born earlier the same morning. Samson came back to church to participate (by his own will). Also, during my sermon, a snake entered our house where Laura and the kids were taking a halftime break. Everyone is fine—at least nobody fell out of an upper story window from over-tiredness!
Many people have responded to the Bible Institute students' and pastors' mutual exhortation that day and registered as new students. Next week we repeat the first class on personal evangelism and the meta-narrative of Scripture, "The Story of the Bible." With more than 50 interested, we might actually have too many students to handle.
Prayer Update
Three months after the Bible Institute class on spiritual growth, the students are making great progress with their homework. They were assigned to regularly read or listen to God's word and pray in response. Their pastors report that this has been both incredibly challenging and rewarding for the students. Let's thank God and pray that He continues to make His word a means of spiritual renewal.
Please pray that the young church in Usagara will develop habits of taking in God's word and praying together. William and I are planning in-home visits to encourage informal group reading and prayer gatherings.
Evangelism continues in Bukokwa where a temporary meeting structure has been erected. Those who have responded to gospel conversations are invited to meet for teaching and worship. Pray that the group will pursue a clear commitment to the gospel and obedience to God's word.
Being reminded how influential our example can be for good or for ill, please pray with us that God will continue making us people of Christlike mercy, faith, and love, and that our progress in such matters would be evident (1 Tim 4:15).
In June a young couple from Usagara got engaged. We then worked together through the process of giving a bride price. This past Saturday Shukuru and Anna got hitched before their family, friends, and fellow church members. We knocked out a wall to accommodate everyone (you can do that when walls are reed mats!).
This was the first wedding held by this church and the first I have ever officiated. It is a personal privilege to have walked with Shukuru and Anna through the engagement process. I might say that these engagement and wedding customs are likely to utterly exhaust a couple financially and emotionally. But I also have seen how it has drawn this young church closer together and how, over it all, the sanctity of Christian marriage is sufficient for quite a bit of rigamarole. Now the party is over, the couple starts their life together, and we pick up our prayers for them.
After completing the basic teaching which prepared the way to form a church membership in Usagara, I've shifted my focus to preaching through the Gospel of Mark. In this context–like the one in which Jesus ministered and just about any other outwardly religious society–people may know about Jesus without truly knowing who He really is. Mark's Gospel is helpful as an especially hard-hitting confrontation of wrong thinking about who Jesus is.
Mark writes the "good news about Jesus the Messiah, the Son of God" (1:1). What makes the "good news" good may be lost on as many people today as it was in First Century Palestine. Contrary to popular opinion, Jesus can be both Messiah and sacrifice for sin, argues Mark. He is humble enough to bless children and bold enough to challenge the religious establishment. Jesus is both Son of God and friend of sinners.
Gospel of Mark in TZ
Preaching through this Gospel presents the chance to address certain commonly misunderstood notions about our Lord. For instance, God is more concerned with the condition of our heart than our pockets. Jesus is more interested in your repentant faith than your status, title, or ability to wow crowds. The following table shows the ideas we've been considering as we walk through the Gospel of Mark in broad strokes:
| Passage | Sermon Theme |
| --- | --- |
| Mark 1–3 | Let's get to know Jesus as He really is, not as we want Him to be |
| Mark 3–6 | Those who know Jesus as He really is will be radically changed |
| Mark 6–8 | Loving God as He is more important than keeping traditions |
| Mark 8–10 | Without the death of Christ, there is no good news |
| Mark 11–13 | Prepare for Christ's return by loving God with your whole heart |
| Mark 14–16 | TBD |